Which is better? Quilting or sewing machines?
You can use just about any regular sewing machine for quilting. However, you will likely miss a lot of essential features that might make your quilting experience smoother, easier, and more enjoyable.
An advantage of quilting machines over sewing machines is that a quilting machine offers more workspace, SPM (stitch per minute) count, motor speed, stability, and extra add-ons. In other words, quilting can be done with any traditional sewing machine, but if you want a smooth ride and a faster experience, quilting machines are worth purchasing.
The fact is, whether you're an expert quilter or just trying it out for the first time, using a suitable machine makes all the difference.
Difference between a Quilting and Sewing Machine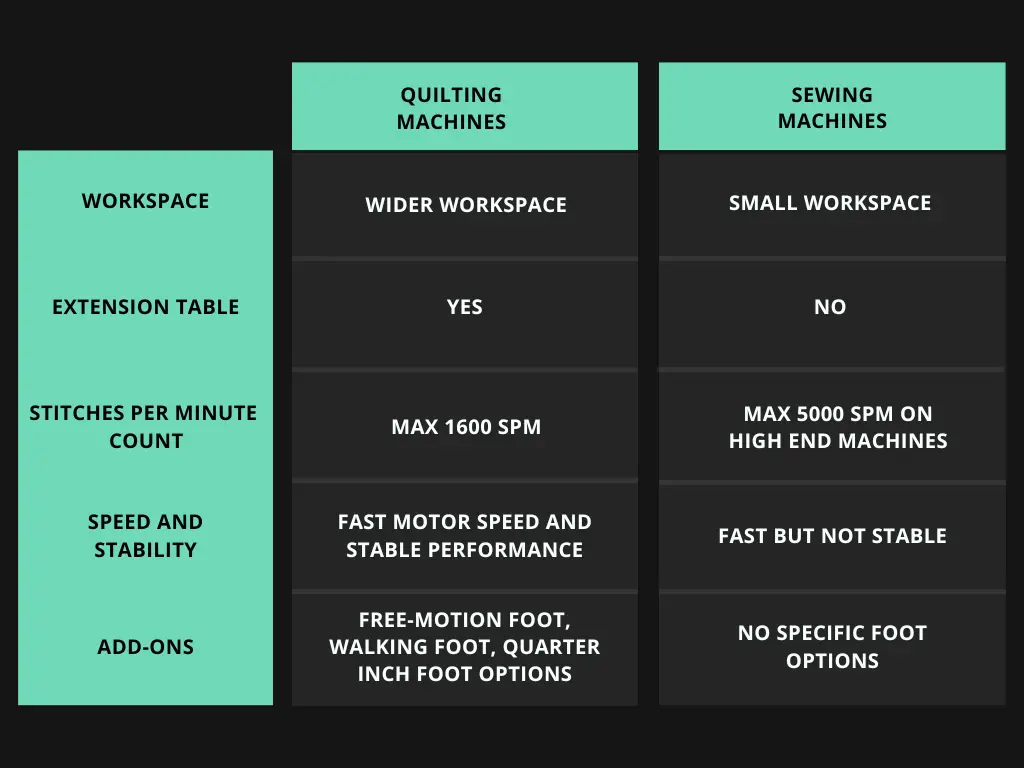 As you can see from the image above, there are some key differences between a quilting machine and a regular sewing machine.
You may not consider these differences important if you are just starting out, but if you have experience sewing, these differences are a lot more important.
Let's talk about why these differences matter.
Work Space
Considering that quilts are large and bulky, the work area of a quilting machine must also be spacious.
In other words, the longer the machine and the wider the throat (space between the needle and the machine's surface), the more space you'll have to work on large quilts.
For basic sewing needs, a regular sewing machine is enough. But with bulky projects, such as quilts, the throat space becomes pretty important.
And since quilting machines have a much wider space than any domestic sewing machine, they are the most ideal option.
Extension Table
When you make a quilt, you join several pieces of fabric together to make a bigger piece. That's why you may need a large area on your machine to work.
For example, if you are adding borders, bindings, or making a king/queen-size quilt, you would need an extra work surface.
As quilting machines are designed for larger projects, this will give you an additional boost in space, making it easier to move as you quilt.
Some quilting machines on the market come with extension tables while other quilting machine brands make this feature available as an optional accessory or add-on.
SPM (Stitches Per Minute) Count
The SPM count is the number of how many stitches a sewing machine can do in a minute, and it's really important since it reduces the time to finish a project.
High-end sewing machines range from 1,000 to 5,000 stitches per minute, higher than quilting machines. But those may not be suitable for home use, so obviously a quilting machine would be better in such a case.
Quilting machines can reach speeds up to 1600 stitches per minute, so you will have no problem getting through each project quickly.
It's also necessary to note that an increase in stitches per minute also increases the machine's durability. Therefore, the motor becomes stronger and more capable of pushing through many layers of fabric easily.
Speed and Stability
Stability and fast sewing speed are what make a quilting machine superior to a sewing machine.
Having a balance between speed and stability is important for a machine to withstand the motor's speed, and quilting machines achieve that perfectly.
The use of a high-speed machine equates to faster project completion, which is a must for professionals or people who quilt for a living.
Add-Ons/Foot Accessories
Although both machines come with a number of different feet options, only quilting machines have a couple that are entirely specific to quilting. These are free motion or "darning" foot, quarter inch foot, and walking foot.
The Free motion foot is used for free-motion stitching, during which the fabric can be moved in any direction while stitching to create decorative patterns. This prevents you from being injured by the needle, which helps avoid accidents.
Also, this particular foot helps to ensure stitch formation is correct by diluting stitch puckering and minimizing skipped stitches. If you're a newbie, this will help you tremendously when practicing freehand quilting.
The open-toe version greatly improves stitch visibility and is especially popular with quilters. Setting your needle to the left needle position will produce the best results when free motioning.
When it comes to piecing a quilt top by machine, a quarter-inch foot on a quilting machine comes in handy.
With the quarter-inch foot, you will be able to quilt accurately and effectively, especially on projects with narrow seam allowances.
Especially when dealing with thick fabrics like quilts, which have multiple layers, a walking foot is very helpful.
Basically, this is a feature that consists of a second pair of feed dogs which are intended to assist the top of the project.
It is also helpful in slipper fabrics and increases the task speed. Additionally, this feature makes quilting straight lines a lot easier.
Final Thoughts
It is quite normal for a quilting machine to have better features than a regular sewing machine, especially when you choose between those two for quilting because both are made for different tasks.
In some cases, a regular sewing machine can handle the job, but in other cases, a quilting machine is the only way to finish the project.
However, using the right equipment can make a big difference in how your projects turn out.
When you have the right tools, you can never go wrong, regardless of how experienced you are.
FAQs
Can You Use Any Sewing Machine for Quilting?
Quilting can be done with any regular sewing machine. Even though sewing and quilting machines offer different features, they are still similar.
Moreover, there are a few things to consider before using a traditional sewing machine for quilting.
Size Of The Quilt: A regular sewing machine can be used to sew small quilts and other quilt projects. However, you might find it difficult to work with a big bulk of fabric on a narrow "throat."
Durability: Even though domestic sewing machines are solid and capable of handling heavy tasks, quilting machines are still a better choice because they can handle higher speeds.
Foot Accessories: Regular sewing machines can only sew straight or zigzag stitches, which limits quilting designs. If you wish to upgrade the designs, however, you must purchase a free-motion quilting foot-attached quilting machine. To save money, you can also add foot accessories to your standard sewing machine.
Can you quilt a large quilt on a regular sewing machine?
Quilting a large quilt on a regular sewing machine isn't impossible but it's quite challenging, especially if you have no experience of quilting.
Large quilts take up a lot of space, and you will need a lot of throat space to stitch them. Since the throat space of a regular sewing machine is small, you will have to go through a lot of trouble.
Do You Need a Quilting Machine To Quilt
Sewing a quilt by hand is possible, but a sewing machine will provide better accuracy and stitch quality than doing it by hand. Besides, it will save a lot of time and minimize physical effort.