Welcome to Quilttrailswnc, a creative haven where traditional craft meets modern design aesthetics.
I'm Lauren, the heart, and hands behind this venture, and I'm so delighted that you've found your way here.
Quilttrailswnc History
Quilttrailswnc means Quilt Trails of Western North Carolina!
Barbara Webster was the previous owner who handed her passion to a non-profit organization called Haywood County Arts Council in July 2019.
Nine contiguous counties host quilt blocks, with the highest concentration in Yancey, Mitchell, and Haywood Counties.
The Quilt Trails project got its start in Ohio when Donna Sue Groves put a block on her barn to honor her mother. From that simple act, the project has spread to 30 states and Canada.
Numerous driving trails take you to view vividly painted quilt squares installed on barns and buildings of participating communities. Even if it is raining you can still enjoy a day of adventure finding the quilt blocks.
Now the tradition of handcrafting exterior quilt blocks has fallen to a dedicated group of volunteers in Waynesville, NC, who meet weekly to hand paint these works of art.
If you want to order a block then go here and fill out a form with your desired design and requirements.
How I Met Barbara Webster?
Let me take you on a journey, one that started amidst the verdant forests and bustling streets of Portland, Oregon, and led me to the peaceful, rustic valleys of Western North Carolina.
You see, I am a quilter. Fabrics, threads, needles, and patterns are my companions. They've been with me since I was a child, learning the craft from my aunt. But this is not just about me. This is about another quilter, a remarkable woman named Barbara.
Our paths crossed through an online forum dedicated to quilting. Barbara's posts caught my attention.
She wasn't just a quilter; she was a quilting artist, breathing life into traditional patterns and innovating new ones with an exquisite balance of creativity and precision.
I was drawn to her work, to the passion and dedication she poured into every stitch.
She lived in Western North Carolina, a place she often described as a haven for artists and quilters alike.
And then, on a whim and with an adventurous spirit, I decided to visit Barbara. The journey was long, but filled with anticipation.
The plane touched down at Asheville Regional Airport, and I was immediately taken aback by the breathtaking beauty of the Blue Ridge Mountains. I could see why this place had inspired Barbara, and I felt an inexplicable connection to it.
Barbara welcomed me with open arms into her home, a charming cottage filled with quilts of all sizes and colors. We spent hours talking, sharing our quilting stories, our joys, and our frustrations. It was an enriching experience, one that I still carry in my heart.
One day, over a cup of steaming coffee, Barbara started to speak about her website, Quilttrailswnc.org.
The site was her labor of love, a platform where she shared her knowledge, her patterns, and the vibrant quilting community of Western North Carolina. But she was growing older, she confessed and was finding it more difficult to manage the site on her own.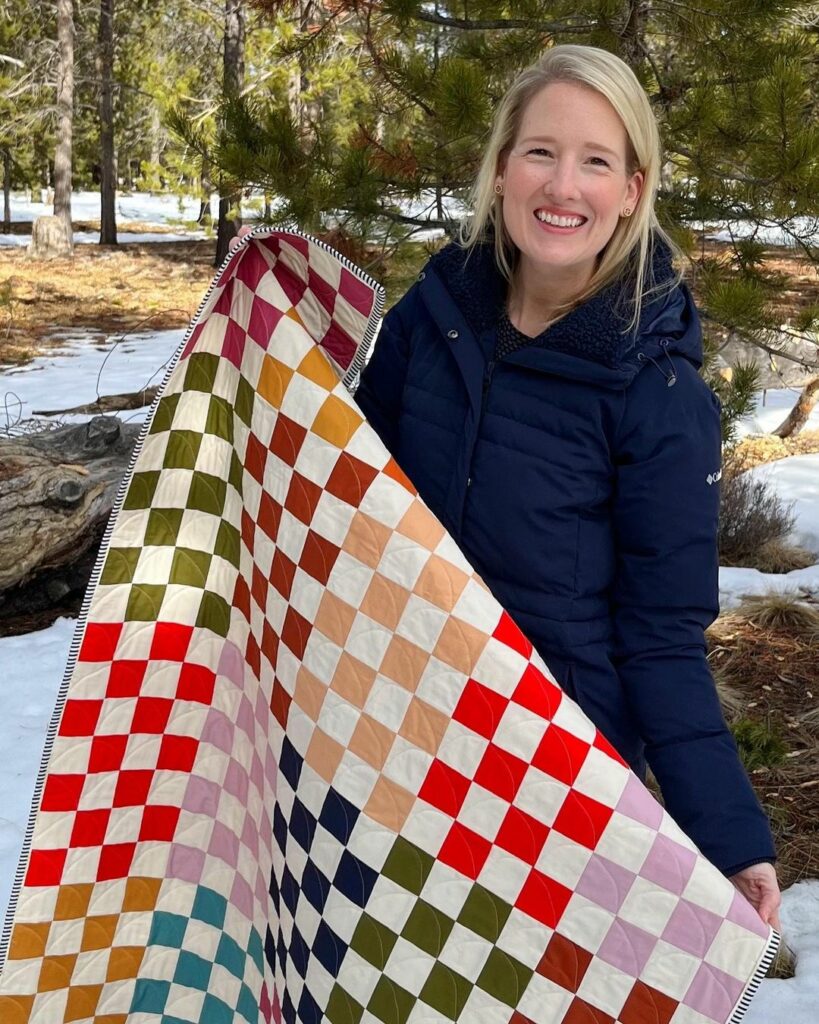 I was silent for a moment, touched by her honesty and vulnerability. I had grown to admire this woman, not just for her quilting skills, but for her spirit, her generosity, and her unwavering dedication to her craft.
In a soft voice that held a note of sadness, Barbara turned to me, 'Lauren, would you take over Quilttrailswnc.org? I trust you, and I believe you have the passion and the skill to carry on this legacy.'
I was taken aback. The offer was a grand one, filled with responsibility and honor. But as I looked into Barbara's hopeful eyes, I knew that this was a path I was meant to tread.
I nodded, promising to take care of Quilttrailswnc.org, to keep it as a space for all quilters to learn, grow, and share their passion.
That is how I, Lauren from Portland, Oregon, came to inherit a piece of Western North Carolina's quilting heart.
Now, every day, I strive to uphold Barbara's legacy, sharing the joy of quilting with anyone who visits Quilttrailswnc.org.
I may have started my quilting journey under the grey skies of Portland, but it has led me here, under the clear blue skies of North Carolina, connected by threads of passion and a shared love for quilting.
A little about me
I am a passionate modern quilter and pattern tester with an eye for detail and a heart full of creativity.
My quilting journey started at a young age, learning the art from my aunt.
She was a master of classic patterns and techniques, and I was a young girl with a fascination for color and design.
Over time, I've honed my skills and developed a distinct style that blends my love for tradition with contemporary design elements.
This unique approach has become my signature, and it's what you'll find in each piece I create here at Quilting Harmony.
Here, you'll discover a world where every stitch tells a story. My designs are inspired by nature, art, and everyday life, turning ordinary patterns into extraordinary quilts.
Every quilt is crafted with utmost precision and care, ensuring not just aesthetic beauty but also long-lasting quality.
As a pattern tester, I am privileged to work with some of the industry's most innovative designers.
This role allows me to refine and perfect patterns before they reach your hands, ensuring they are not only beautiful but also practical and user-friendly.
But Quilting Harmony is more than just about quilts and patterns. It's about a community of crafters who share a common love for this timeless art.
It's about inspiring each other, learning together, and creating pieces that are not just visually appealing but also emotionally resonant.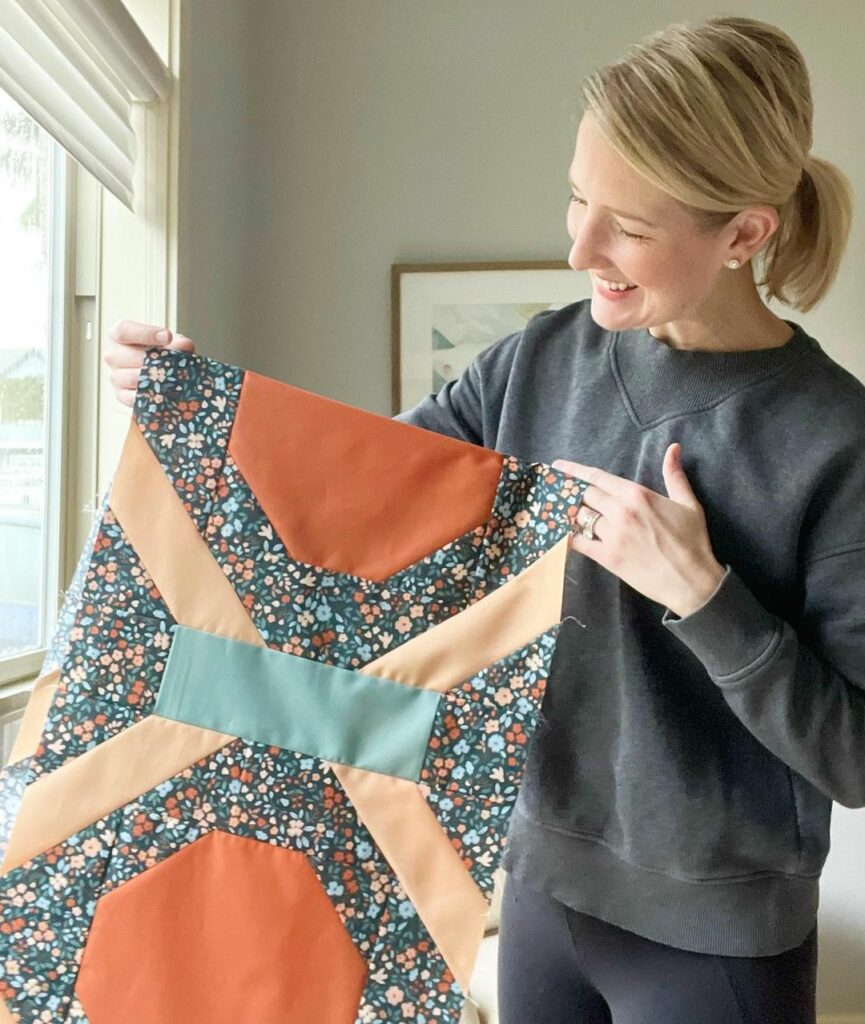 Whether you're a seasoned quilter looking for fresh inspiration, a beginner eager to learn, or simply an admirer of beautiful designs, there's something here for you.
I warmly invite you to explore the site, join the community, and, most importantly, let your creativity soar.
Thank you for being here, and I can't wait to share this beautiful journey of quilting with you.
Happy Quilting!
Lauren